A few of the tents on the exhibit grounds at the 13th Biennial Scientific Conference held at KARI in Nairobi from 22–26 Oct 2012 (photo by ILRI/Alexandra Jorge).
The 13th Biennial Scientific Conference and Exhibition at the Kenya Agricultural Research Institute (KARI) took place last week at KARI's headquarters in Nairobi's leafy suburb of Loresho.
This correspondent—enamoured of the sea of white tents erected across KARI's rolling green lawns to showcase hundreds of exhibitors of 'Agricultural Products, Technologies & Innovations'—never actually made it to the proceedings of the conference itself. But if the conference was anything like the exhibits, it must have been a great success.
My organization, the International Livestock Research Institute (ILRI), tried to distinguish its exhibit on livestock forage research and capacity building from the hundreds of other tents just like it with decorations of African artefacts—wooden bowls, woven baskets and traditional cloths and the like—as well as safari chairs inviting passersby to come inside for a conversation. So successful were we that many people upon entering the ILRI tent promptly asked to buy some of the display items (and were promptly disappointed when we told them they weren't for sale.) The big cattle and camel bells were also a big hit, with the visitors having to explain to ILRI staff the difference between the bell sounds appropriate for cows and those for bulls!
We were at KARI to promote opportunities for young Kenyan scientists to train at ILRI, the headquarters of which are located just a 15-minute drive from KARI. And we showcased our collaborative research with KARI scientists, including Solomon Mwendia, on disease-resistant varieties of Napier grass, aka 'elephant grass', on which so many Kenyan smallholder farmers depend for feeding their milk cows.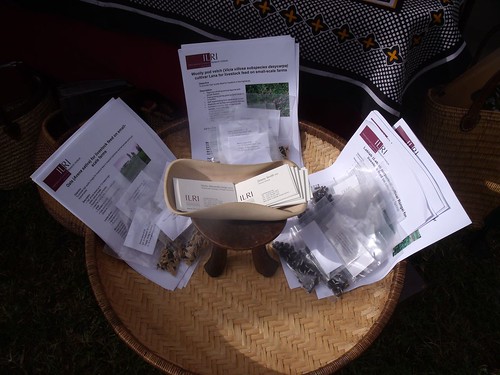 Forage seed display at the ILRI booth (photo by ILRI/Alexandra Jorge).
Visitors showed great interest in ILRI printed materials about improved forages and feeds (lab lab, oats, vetch), seed samples and Napier grass cuttings and leaves, and a research-based feed assessment tool for selecting appropriate feeds for different regions.
Alexandra Jorge, head of ILRI's Forage Genebank, in Addis Abba, Ethiopia, talks to a visitor in ILRI's booth on the exhibit grounds at the week-long KARI scientific conference; in the basket are varieties of disease-resistant Napier from the genebank (photo by ILRI/Paul Karaimu).
'The demand for information was huge', says Alexandra Jorge, who heads ILRI's Forage Genebank, in Addis Ababa, Ethiopia, and came down to Nairobi to answer questions and provide expertise at KARI's week-long event. 'We had questions about the best feeds for dairy goats, how to maximize forage production for feeding dairy cows, the best methods for raising pigs, the best breeds of chickens to keep, how to transition to stall-fed ('zero grazed') dairy animals, how to start hydroponic and screen-house forage production, and what climate change is likely to change in Kenyan agriculture—and what livestock farmers can do now to cope with it.'
'I really enjoyed participating in this exhibit,' Jorge says 'having real contact with our users and clients and chatting about their challenges and projects. It made me think hard about what we researchers do and the impact and benefits we can bring to farmers. It also made me realize how little I know about the work that many colleagues are doing and that we should make this information much more available.'
'It was amazing to see the amount of interesting and innovative work KARI and many Kenyan universities are doing. Many people had stories to share, or tasty food, like the amazing sorghum sausages that taste just like meat!'
Sausages for sale at the KARI event (photo by ILRI/Alexandra Jorge).
ILRI research manager Sandra Rwese was most impressed with the number of young entrepreneurs at this event looking for agricultural innovations and good ideas. 'Scores of youth finding few jobs in urban areas appear to be calling city life quits and heading to rural farming villages. The numbers of these young new farmers that I met at the KARI event are much larger than I'd expected. This young generation is clearly keen on taking agriculture and livestock farming to the next level.'
Jane Gitau, a communications officer at ILRI, agrees. 'Many of the visitors to ILRI's tent inquiring about better methods of livestock keeping appeared to be in their thirties and early forties. They wanted information to take away with them; they wanted to learn more efficient methods of farming. It was refreshing to witness this drive to make agriculture a knowledge-based business.'
KARI display of range grass seed at KARI event (photo by ILRI/Alexandra Jorge).
'Walking from booth to booth', Gitau said, 'I was amazed to see all that KARI had to offer from its 22 centres countrywide, from Kibos to Kiboko, Muguga to Thika, each with a different mandate in agricultural research. Staff from KARI's Kiboko Research Station, located about 150 km southeast of Nairobi and the institute's drylands station, exhibited various imported and hybrid rangeland grasses they are trialing. KARI's Muguga Station was exhibiting some of Kenya's important plant and livestock genetic resources. And an improved rice variety grown under irrigation at Kibos, in western Kenya, was on display, along with rice flour, rice cakes, rice doughnuts and rice cookies!'
Traditional Taita woven baskets for sale at the KARI event (photo by ILRI/Alexandra Jorge).
Finally, Gitau remarked on the close connections KARI has to its constituency. 'Those of us manning the ILRI booth often directed visitors to the many KARI booths to get their specific farming and livestock keeping questions answered. These people sought practical help and region-specific recommendations we didn't have', Gitau said. 'When I asked people if they knew where to find KARI, I several times got the reply, 'Hao ni watu wetu', colloquial Swahili for, "Those are our people".