Livestock matter to the livelihoods and ambitions of most people living in Africa and other developing regions of the world (image credit: ILRI/Rob O'Meara).
Note: This post was developed by ILRI corporate communications staff Paul Karaimu and Muthoni Njiru.
The 6th Africa Agriculture Science Week (AASW6) of the Forum for Agricultural Research in Africa (FARA) is being held this week (15–Jul 2013) in Accra, Ghana. The official opening and plenary sessions start tomorrow, Thu 18 Jul.
Speaking at Monday's launch of the whole AASW6 week, Tiemoko Yo, chairperson of FARA, said the science week aimed to respond to some of the burning issues in African agricultural research for development. Many if not most of those issues were discussed in more than 50 side events held over the first 2 days of the week, many of them by CGIAR centres.
One such side event organized by the International Livestock Research (ILRI) explored the role of  'Livestock research for Africa's food security and poverty reduction'. Sixty-five people from agricultural and livestock development, extension and government agencies participated in this three-hour session facilitated by ILRI's Even Le Borgne and held on 15 Jul. Five topics were  discussed:
The biomass crisis in intensifying smallholder livestock systems
Vulnerability and risk in drylands
Food safety and aflatoxins
Livestock vaccine biosciences
Mobilizing biosciences for a food-secure Africa
The session started with a look at Africa's livestock sector as a whole.
After ILRI director Jimmy Smith welcomed the guests to ILRI's morning discussion, Shirley Tarawali, ILRI director of institutional planning and partnerships, explained one of the aims of the session. 'Today, with our partners and stakeholders, we'd like to reflect on where we can work closely with others to influence and develop capacity to enhance Africa's agriculture.'
Half of the highest-value African commodities are livestock products, including milk and meat.—Shirley Tarawali, ILRI
Next was a brief look at an emerging 'biomass crisis' in African agriculture.
Iain Wright, who leads an Animal Science for Sustainable Productivity program at ILRI, said 'Livestock feed is at the interface of the positive and negative effects of livestock raising. Helping Africa's many millions of farmers and herders to boost their livestock productivity through more and better feeds while also helping them to conserve their natural resources is a major challenge for livestock scientists.'
Biomass production is the most significant user of land resources and water in livestock production systems. We need to think how to produce this biomass more efficiently.—Iain Wright, ILRI
Next up was a quick overview of the public health threats posed by livestock foods and aflatoxins.
'Ensuring food safety is one of the most important issues facing the agricultural sector today', said Delia Grace, a veterinary epidemiologist and food safety expert at ILRI.  'This is especially so in developing countries, where food-borne diseases are among the top five health burdens. Livestock diseases and unsafe milk, meat and eggs pose multiple burdens on the poor. They sicken and kill people and animals and burden national economies with huge economic losses'.
Each year, Africa loses billions of dollars due to aflatoxins, which occur on mouldy maize, groundnuts and other crops and crop harvests. The widespread presence of aflatoxins in Africa hurts the continent not only by making people ill but also by contributing to lost market opportunities.—Delia Grace, ILRI
Unfortunately, she said, efforts to improve food safety standards can end up hurting the poor, who, finding it difficult to meet those standards, are often cut off from the informal markets they depend on. Livestock foods also pose problems, she said.
The most nutritious foods—milk, meat, fish and vegetables—are also the most dangerous. These foods are also among the highest-value agricultural products in terms of generating cash incomes and are especially critical for the well-being of Africa's women.—Delia Grace, ILRI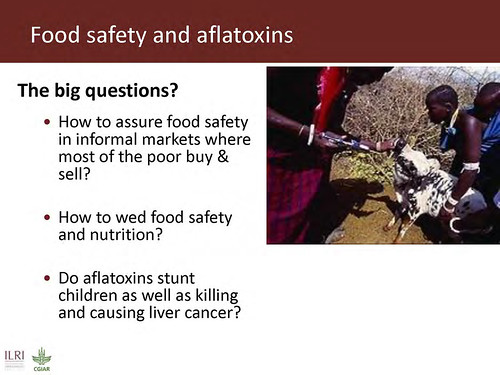 Next was an introduction to livestock vaccines for African livestock.
Suzanne Bertrand, deputy director general biosciences at ILRI, reported on ILRI and partner research to produce vaccines that protect African livestock against disease. 'We want to simplify vaccine production and to understand how the pathogens that are causing African livestock diseases are developing resistance to the drugs used to treat the diseases.'
We want to work on these issues with the immunology and health departments of African universities.—Suzanne Bertrand, ILRI
ILRI scientist Polly Ericksen also spoke on ILRI-partner approaches to new research on pastoral systems in Africa's drylands and Ethel Makila introduced the state-of-the art facilities and training opportunities in the Biosciences eastern and central Africa-ILRI Hub, endorsed by the New Partnership for Africa's Development (NEPAD) Comprehensive African Agricultural Development Programme (CAADP) and located in Nairobi, Kenya. ILRI deputy director for research in integrated sciences, John McIntire, provided a synthesis of the morning's discussions.
From the participants

In agriculture, the livestock sub-sector has been neglected. To meet the Millennium Development Goal of helping people rise out of poverty, we must invest more in smallholder livestock production.—Yusuf Abubakar, executive secretary of the Agricultural Research Council of Nigeria
'When a research-based agricultural intervention is introduced to a community,' said Mkhunjulelwa Ndlovu, of Zimbabwe's Department of Agricultural, Technical and Extension Services, 'it must be integrated into existing work and involve other stakeholders in development, especially governments, to ensure that use of the intervention is sustained over the longer term.
'And remember', Ndlovu said, 'that the most active members in most communities are women; our interventions must suit their needs.'
We don't feed ourselves and others with food alone; we also feed ourselves and others in intellectual ways. Capacity is key to driving innovation and change within societies; to build that capacity, we need to change people's mindsets.—Mkhunjulelwa Ndlovu, Zimbabwe Department of Agricultural, Technical and Extension Services
Group discussions at the ILRI side event on 15 Jul at the 6th Africa Agriculture Science Week (AASW6), in Accra, Ghana, 15-20 Jul 2013, organized by the Forum for Agricultural Research in Africa (FARA) photo credit: ILRI/Ewen Le Borgne).
Recommendations
Those participating in this ILRI-hosted side session agreed on the need for livestock scientists to work in multidisciplinary teams and engage in 'holistic' research. Only by doing so, they said, would livestock scientists be in position to evaluate all components affecting the livestock sector and thus to help reduce the many risks and burdens faced by Africa's millions of small-scale livestock producers.
The participants also agreed that it is the responsibility of livestock and other agricultural researchers to provide policymakers with evidence of how each component of smallholder farming links to others and how investing in one component can make a difference to the other components. Improving animal health, for example, can also improve the safety and nutritional value of animal-source foods.
Recommendations put forward at ILRI's side meeting for enhancing the livestock sector's contributions to Africa's food security and poverty reduction include the following.
Ensure development of high-quality vaccines is supported by high-quality vaccination campaigns that involve local communities.
Incorporate indigenous knowledge to ensure research understands community realities and addresses community needs.
Boost the essential roles of continental and sub-regional approaches to development in the livestock research agendas.
AASW6
FARA's 6th Africa Agriculture Science Week (AASW6), in Accra, Ghana, includes marketplace exhibitions (15–20 Jul 2013), side events on sub-themes (15–16), a ministerial roundtable alongside a Ghana Day (17 Jul), plenary sessions (18–19) and a FARA Business Meeting (20 Jul). Follow the discussions on Twitter with the hashtag #AASW6 or visit the FARA AASW6 blog.
View all of the ILRI slide presentations: Livestock research for food security and poverty reduction, 15 Jul 2013.